For most people, achieving a beautiful smile is the reason they seek out orthodontic care. If you're self-conscious about your smile, having braces will greatly improve the way you look and feel. Did you also know that straight teeth are also healthier? Well-aligned teeth are easier to keep clean, and have an even bite, preventing premature wear and tear.
When your treatment is complete, you will have the healthy smile you've always dreamed of, as well as the confidence to show it off! We also want you to feel comfortable and confident while in our Fresno dental office, so Guillermo & Silvia Donan, DDS is dedicated to making sure that you receive the quality care and attention you deserve.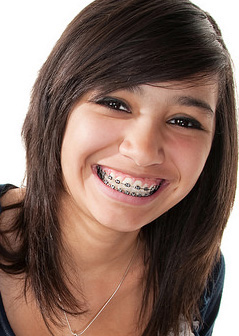 Clear Aligners
Clear aligner orthodontics involves a series of invisible, removable, and comfortable acrylic trays that straighten your teeth like braces. The aligners invisible and removable, so you can eat and drink what you want while in treatment. This also helps to make brushing and flossing less of a hassle. The aligners are comfortable and have no metal to cause mouth abrasions during treatment.
Self-Ligating Braces
Self-ligating braces are made from the same materials as traditional braces and come with traditional metal, ceramic, or clear brackets. They are the same size as metal braces, but they use a specialized clip in place of elastics to help the archwire guide teeth into place. The clip helps reduce the amount of pressure being placed on each tooth and requires fewer adjustments because there are no elastics to replace.
Clear (Ceramic) Braces
Ceramic braces are made of clear materials and are therefore less visible on your teeth than metal braces. For this reason, Drs. Guillermo and Silvia Donan suggest that ceramic braces only be used on older teenagers and adult patients who have cosmetic concerns. While they are visually less prominent, ceramic braces do require more attention to oral hygiene, as they are larger and more brittle than their metal counterparts. For these reasons, ceramic braces tend to be used more on upper front teeth rather than on lower teeth.
Orthodontic Treatment with Drs. Guillermo and Silvia Donan
When you come to our Fresno, CA dental office for your complimentary orthodontic consultation, you'll be met by our dedicated team, all of whom provide a high level of customer service. We will take a series of digital panoramic, cephalometric, and 3D X-rays to develop a precise diagnosis and treatment plan. You'll meet with Dr. Guillermo or Silvia Donan to discuss your treatment goals and needs, and agree on the best course of action to fulfill both.
Orthodontic treatment with Guillermo & Silvia Donan, DDS will last between 18 and 24 months, depending on your specific case. You'll visit our Fresno office every four weeks for an adjustment and checkup. We will make sure that your treatment is progressing successfully and on time.
Orthodontic treatment can truly be a life-changing experience!
Some of Our Patients' Before and After Photos